Managing a correctional facility entails a seemingly endless number of precautions. Riots, fights, and various other dangerous occurrences all need to be preemptively curtailed and handled swiftly when they do happen.
However, while all of the aforementioned precautionary measures (among many others) are mandatory, one that is often overlooked is plumbing. Correctional facility plumbing requires diligent attention from purchase to maintenance.
But, why exactly do correctional facility managerial staff need to take their plumbing systems so seriously? Let's take a look at just four excellent reasons why.
1.Overuse, Overabuse, and Safety
According to Statista, there were 2.12 million incarcerated inmates in the US during 2020. The population varies widely in correctional facilities across the country, but the largest prison in the USA is the Los Angeles County prison, which has an inmate population of 19,836.
This means that, while the populations do vary from facility to facility, there is a sizable population of inmates throughout the country. This, therefore, implies that the plumbing system is used and even abused by inmates.
When choosing toilets, for example, you need to carefully consider the use and abuse they take from inmates. You shouldn't opt for porcelain toilets, as these can be shattered and used for self-harm and harm to others.
Toilets are also often used as a power play by inmates. They can be used to dispose of contraband, garbage, or other such items– even to cause a disruption in the entire facility.
In order to deter such abuses, opting for stainless steel toilets (which cannot be broken easily) that have electronic flush valves (which can control how often they are used) are excellent precautions to take for toilets. Obtain optimal safety in your facility by paying close attention to your plumbing fixtures, from cell to shower.
2.Lack of Funds for Maintenance
It is no secret that the budget for prisons in the US is constantly under major constraints. In 2019, the Bureau of Justice Statistics estimated that the US spent $81 billion that year alone on mass incarceration (which may actually be an underestimate).
While that sounds like a hefty number, it is insufficient in terms of ensuring proper conditions on all fronts for every incarceration facility in the country. That is why, when purchasing new plumbing fixtures and equipment, managerial staff needs to ensure that they purchase high-quality yet low-cost options.
For prisons and other correctional facilities, the selection process for plumbing parts needs to be a strategic and properly planned venture to fit into the budget accordingly. Having correctional facility plumbing that needs constant maintenance and repairs will not only infringe on the delicate confines of the budget but can even be dangerous for inmates and facility staff.
3.Irreversible Environmental Impact
With the sizable populations in our prisons, jails, and other correctional facilities, there is no doubt that this can lead to a drastic and detrimental environmental impact. Let's take a look at one incarceration entity in particular that had an extremely mismanaged plumbing system: the Alabama Department of Corrections (ADOC).
The ADOC had been receiving complaints from its prisons on their wastewater pollution since 1991 (until 2007), which actually was only from one prison at that time, the St. Clair prison. The ADOC ignored these complaints for years on end, yet then doubled their prison population without updating the plumbing systems, which was only able to handle half that population size.
Since they failed to properly update their plumbing systems, the environmental impact was astronomical. They were dumping high levels of toxic ammonia, fecal matter, parasites, and viruses into local freshwater bodies, which negatively affected aquatic life.
Because they refused to acknowledge these issues promptly, the wastewater pollution spread from just the one prison to being a statewide issue, including several prisons and other facilities.
This is one of the biggest reasons why correctional facility plumbing needs to be seriously and closely considered and monitored. If not, the environment could face massive repercussions, which the ADOC, unfortunately, taught us.
4.Sanitation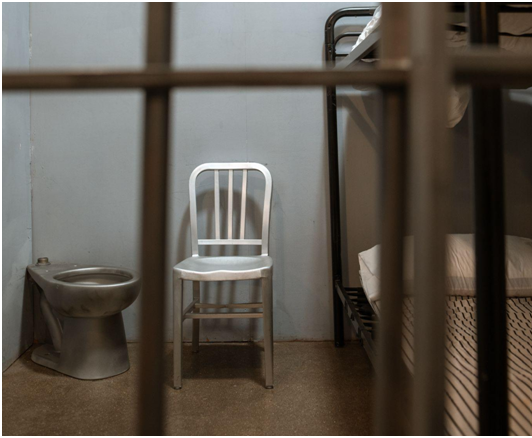 While the inmates in correctional facilities are indeed prisoners and had conducted illegal acts to land themselves there, they are still human beings who deserve the right to sanitary conditions in their day-to-day life. This all starts with plumbing.
Toilets and even showers should be cleaned relatively frequently. When they are not properly taken care of, the plumbing system (especially when it is of poor quality) can get clogged, corrode, and lead to other issues. When they do, inmates and staff can fall ill from bacteria, parasites, and other microscopic entities.
Not only will this provide significantly better living conditions for everyone, but it will also ultimately lead to other advantageous impacts, such as overall improved health conditions, a decrease in healthcare costs, and improved mental states.
Now that you know how serious correctional facility plumbing is, you need to find the best supplier of such parts and fixtures. Trust us here at Quality Plumbing Supply where we carry some of the highest quality, most dependable, and cost-effective options. Give us a call today at 1-833-251-4591 to get started!