We live in an interesting era in which more and more seemingly mundane items are being joined with the IoT or the internet of things.
It was not that long ago that many of us can actually remember when the internet was a novel entity that was only accessible (and barely, at that) via a dial-up connection from a computer.
Nowadays, cars, radios, and all other manner of innocuous, commonplace items are hooked up to the internet, able to be audited - and controlled - remotely.
You may be wondering why we're covering this. Well, it's because some of the plumbing fixtures we sell are also connected to the IoT. At least, they can be.
Case in point: TOTO Flushometers (and other TOTO Plumbing fixtures such as faucets and soap dispensers) are compatible with a system known as "Smart Restroom," which, for certain facilities managers, is utterly revolutionary.
What Is TOTO's "Smart Restroom" Technology?
TOTO's Smart Restroom technology was developed in partnership with Georgia-Pacific and KOLO's Smart Monitoring System.
It is a system that enables select touchless TOTO flushometers, faucets, and dispensers to monitor and transmit data to the cloud, from which the data can be retrieved, interpreted, and analyzed remotely.
This system has a wide range of useful applications, ranging from water usage trends to equipment failure detection, and everything in between.
Select, "Smart Restroom" equipped fixtures record data, and send it to collectors. From there, the data can be securely uploaded via an internet connection to the cloud, where it can be stored and analyzed.
This creates a log of usage in high-traffic commercial spaces, errors, and other patterns that can be retrieved and analyzed using KOLO's mobile and desktop applications, from anywhere in the world. Best of all, KOLO's open architecture makes it possible to integrate with a wide range of third-party applications for seamless sharing and interpretation.
How Do "Smart Restroom" Equipped TOTO Flushometers Benefit Facilities Managers?
TOTO's Smart Restroom technology is changing the way facilities managers around the world are structuring their workflows, allocating their human resources, and prioritizing projects.
Smart Restroom integration offers a wide range of real-time data associated with usage trends and so much more, increasing management capabilities.
Smart Restroom enables facilities managers to immediately detect failures and direct resources towards them, to promptly address and rectify outages to offer overall superior user satisfaction. Smart Restroom integration also enables managers to track real-time data associated with facilities usage in order to create "heat maps" that can be used to administer preventative maintenance to help eliminate outages and much more.
A connected restroom also helps facilities managers monitor water usage - down to shift, day, location, and even down to each individual fixture - decreasing overall water consumption and saving money.
Smart Restroom also eliminates the need for manual checks, lowering the overall burden on a workforce and enabling managers to direct custodial staff as needed and not according to blind routines.
As you can imagine, being able to access and analyze data from TOTO flushometers and other fixtures, instantaneously from anywhere in the world has a wide range of benefits for facilities managers - but they're not the only ones that benefit. Custodians and other staff also benefit.
Smart Restroom enables custodial management to remotely monitor fixtures in order to maximize cleanliness according to usage. It also enables them to immediately learn of visitor concerns so staff can address them and reduce time wasted on manual checks.
In addition, Smart Restroom-enabled fixtures enable heat-map usage that can be used to optimize space and labor utilization. They can be used to improve volume-based cleaning protocols as well as to streamline workforce management. They can even be used to plan for future improvements.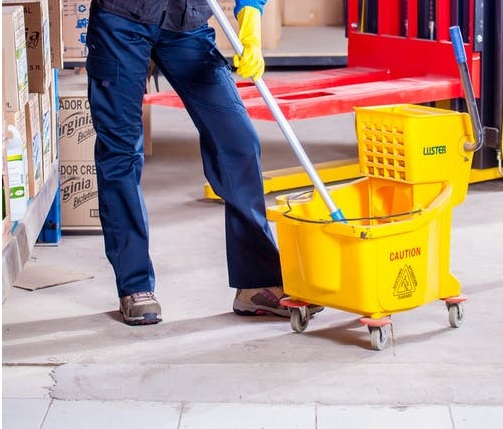 Awarded, Recognized, and Not Just Available for TOTO Flushometers
It's not just TOTO flush valves and other fixtures that can be IoT enabled through Smart Restroom. Select Georgia-Pacific fixtures are also compatible with this technology.
Smart Restroom has been recognized by the American Institute of Architects (AIA) and in 2019 received the prestigious Green Good Design Award which recognizes "outstanding individuals, companies, organizations" and others that have "forwarded exception thinking and inspired greater progress."
TOTO Plumbing's Smart Restroom technology has moved facility and custodial management years into the future with real-time insights into fixture usage, operability, and so much more.
As impressive as it is, this is only one of the proprietary technologies for which TOTO has achieved worldwide recognition. Other unique developments, such as TOTO's Precision Ceramics, Hydrotect, and hands-free TOTO Touchless Technology have distinguished the company from its competitors. As a result, TOTO fixtures are used in hotels, resorts, and other high-end facilities around the world.
Questions about TOTO flushometers, other fixtures, or the unique technology that defines them? You can learn more about our TOTO plumbing fixtures and parts via the previous link or get in touch with us directly at 1-833-251-4591 or at Admin@QualityPlumbingSupply.com.