You may be here for a little more information on Delany flushometers or you may just be here because you need replacement parts, and quick. Either way, you're in the right place. Here's what we can offer you - in terms of both information and products.
What Is a Flushometer?
If you don't know what a Delany flushometer is, it might be because you just don't recognize the word. You definitely know what the part is, even if you aren't familiar with its commercial name. Delany, which is one of the premier plumbing fixtures manufacturers in the industry, is not an exclusive manufacturer, by the way. They make plenty of parts in addition to flushometers, and plenty of other manufacturers make flushometers. So then, what is it?
A flushometer is a special valve. It uses the water pressure of the water supplied through the plumbing lines to flush a toilet or a urinal. Typically, these are articulated pieces of brass or bronze that contain a lever that flushes when you press or pull on it.
Unlike the flush valves in residential toilets, which rely largely on gravity to operate, a flushometer relies on the pressure of the water supply to operate. When engaged, the valve allows a certain amount of water to flow before the valve closes again. Theoretically, they are more efficient than residential, gravity-operated systems.
In laymen's terms, a flushometer is the "lever" you press to flush a urinal or a toilet. The name should make a lot of sense after you reflect on it for a bit.
There are two main types of flushometers, being piston flushometers and diaphragm flushometers, both of which have two internal chambers, a larger high-pressure chamber and a smaller low-pressure chamber. When a user activates the flushometer, the pressure behind the value forces some of the water to flush away before it is replaced by the water behind it in the pipes, resetting either the piston or the diaphragm until the flushometer is activated again.
Delany Flushometers and Unrivaled Quality
We offer both manual and sensor-operated automatic Delany Flushometers here at Quality Plumbing Supply. Though they vary slightly in size and specifics, from .5 GPF to 3.5 GPF, they're all manufactured to the highest standard of quality, for which Delany Plumbing Products have been known for well over a century.
Most of the Delany Flushometers we offer here at Quality Plumbing Supply feature exposed Empire valves with slip-fit connections and are piston-operated. Many of them feature a Top Spud design and have a sweat adapter that enables secure, watertight fittings.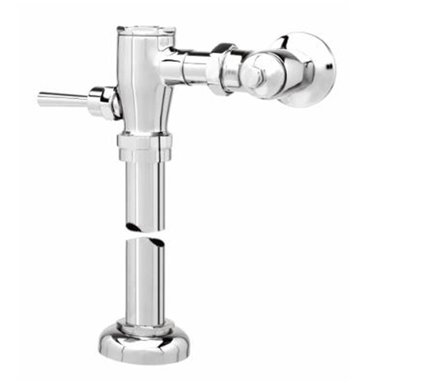 Many genuine Delany plumbing products feature brass or bronze construction and components which is strong, durable, and most importantly, fairly chemically unreactive. This gives them a significant degree of protection against corrosion - which is valuable in wet environments.
Delany Flushometers in the TruSaber line also sport a unique feature that lacks an external hex nut at the top. The lack of an external hex nut means there is no chance that a wrench can be used to tighten the fitting, thereby scratching the finish of the brass or bronze. The lines are also graceful, modern, and fluid.
Delany's Ultra Flushometers are also engineered for top-tier performance. They feature Delany's Rubberflexer, which enables the creation of a truly leak-free Delany flush valve, as well as Delany's Regulating Screw which enables onsite adjustments for optimized water conservation.
Features like these have set Genuine Delany repair parts apart from the competition. Features enabling easy installation, adjustability, and the conservation of water typify the brand. These are the reasons that customers flock to us looking for Delany Flushometers and other official replacement parts.
Delany Plumbing Products: A Brief History
For over 130 years, Delany has set the bar again and again as the standard of manufacturing in flushometers. Its history has been consistently marked by the original technological improvements and innovations that have changed the course of plumbing parts development.
For example, in 1948, Delany invented its original Regulating Screw (mentioned above) which enables easy onsite adjustments for valve performance optimization and water conservation. In 1956 the company developed and released the Rubberflex handle, which helps prevent leaks. It remains the only valve handle on the market that is not spring-loaded.
Innovation, a commitment to quality, and reliability are features that have defined the organization since its beginnings. Today, over a century later, they still guide the company's course. These are the reasons that customers consistently visit us in search of Delany flushometers and other genuine Delany repair and replacement parts.
So, do you know what you need?
Buy at Quality Plumbing Supply and Reap the Benefits of Experience!
Whether you know the exact part number you need or just know you're going to be responsible for repairs in short order, our customer service team can help you out and make sure you're equipped with the plumbing repair and replacement parts you need, including genuine Delany repair parts.
Contact us and let us know how we can help and we'll make sure you get the parts you need at competitive prices.