While every commercial building is transitioning into touchless technology in recent years, there is an increasing demand to go touchless today.
The COVID-19 pandemic has made touchless systems a must in every public restroom. But what do you do if you're pressed for time or out of budget to convert your manual flushometers to electronic flush heads? You get Sloan Retrofits.
Let's dive deep into the subject and talk about the kinds and benefits of retrofits below.
Sloan Flushometer Retrofit
Replacing your toilets and urinals with automatic or electronic flushometers will typically require a major overhaul, not to mention additional expenses.
Sloan flushometer retrofit eliminates both. It makes upgrading to a touchless restroom simple, easy, and less expensive.
A Sloan retrofit offers the same benefits you'll get from a standard flushometer. You get high water efficiency, environmentally friendly, and low water bills all-in-one solution to all your common restroom operational problems.
And because converting to electronic flushometers mean your commercial restrooms can offer touch-free and hygienic operations, you can go head to head with other commercial establishments offering the latest in restroom solutions.
Turn manual flush valves into touchless, sensor-activated flush heads that work effectively in high humidity, high activity, and low water quality environments.
Sloan retrofit kits are not only a terrific method to make your flushometers touch-free for clients, but they also look great and can be installed in under 5 minutes.
They fit into all existing Royal, Regal, and Sloan flushometers, as well as most other flush valves, swiftly and effortlessly.
Retrofit Solutions
There are several kinds of Sloan retrofits that you can use depending on your needs and toilet requirements.
● Top-Mount Retrofit

Installs on the top and replaces the cover and diaphragm assembly. The SOLIS retrofit provides a power-harvesting option, while the ECOS retrofit saves 30% water while reducing flush volume.
Both of these models are available in dual-flush and single-flush configurations. Sloan's best-selling G2 Flushometer includes an electrical courtesy flush override, while the Sloan MC has an all-metal cover design. Each option has a battery life of at least six years.
●Side-Mount Retrofit

These retrofits replace the handle assembly. Sloan's dual-flush side-mount saves 30% water by reducing flush volume, while the single-flush side-mount keeps drain lines clean with an optional 72-hour automated sentinel flush.
Each retrofit has a three-year battery life and an LED light that indicates when the battery is low. When equipped with an SFSM or DFSM flushometer, these retrofits also provide a True Mechanical Override, ensuring a manual flush if the batteries run out.
● Over-the-Handle Retrofit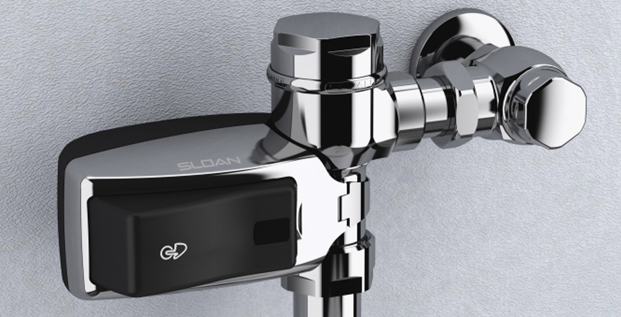 Sloan's battery-powered infrared sensor retrofit is for exposed Sloan urinal and water closet manual diaphragm flushometers.
These retrofits replace the old handle flushometers and offer automatic touch-free operation with a True Mechanical Override functionality.
Advantages of Electronic Flush Heads
Touch-free commercial plumbing fixtures enhance the cleanliness in restrooms and provide user accessibility as mandated by the Americans with Disabilities Act.
They also offer energy and water conservation solutions that are both beneficial for commercial buildings and establishments with high restroom traffic.
Go touchless to offer an optimized, hygienic, and sustainable commercial restroom experience for every one of your clients.
Revenue Impact of Touch-Free Restroom Solutions
Studies show that the cleanliness of the restrooms of an establishment impacts the business. Customers favor clean restrooms and view the business positively.
These days, cleanliness is often equated with modern touchless fixtures that assure users they're not getting any disease-causing bacteria and viruses by using a public restroom.
Because even though people continued to use public restrooms even through the height of the pandemic, there was still a significant concern for using high-traffic spaces that are largely exposed to germs.
So if you care about branding and your revenue, touch-free restrooms are the way to go. Having clean restrooms is a good marketing strategy.
Alternative to Sloan Automatic Flushometers
Some businesses are hesitant in using electronic flush mechanisms because they sometimes fail. Thankfully, Sloan offers flushometer retrofits with manual overrides intended for such occasions.
If you're still worried, or if you believe electronic is not for you, you may opt for manual handle retrofits that Sloan also offers.
These handles, though manual, are laboratory proven to be most hygienic and to have antimicrobial protection.
Chose from CuVerro, SaniGuard, and UPPERCUT models. CuVerro handle is made up of a copper surface that destroys bacteria continuously, killing 99.9% of bacteria in just two hours.
SaniGuard handle has a coating that inhibits the growth of common bacteria, molds, and fungi, while the UPPERCUT handle has dual-flush choices that can assist save up to 30% water while also reducing bacterial growth.
Just a tip: if you prefer Sloan's manual retrofits with antibacterial materials, don't be shy about letting your clients know the surfaces of your toilet and urinal handles are anti-bacterial.
Turn Your Manual Flush to Automatic Toilets Now!
With Sloan Retrofits, it's easy and economical! Switch to hands-free restrooms today and bring your building or establishment to the modern era of commercial restrooms.
Wondering where to purchase replacement parts? Here at Quality Plumbing Supply, we offer repair and replacement parts for Sloan electronic flush heads and other plumbing fixtures.
If you need more information about touch-free solutions, or you're looking to buy in bulk and need assistance, contact us. We're here to help!